New Hampshire
Dog Training and Puppy Training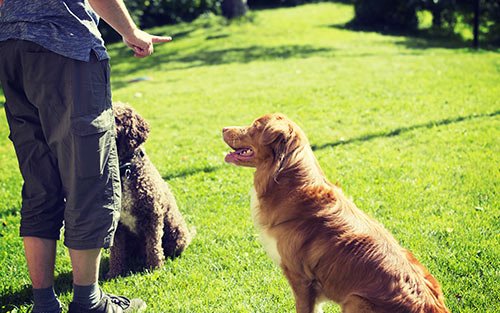 Canine Dimensions Home Dog Training services the entire states of New Hampshire and Vermont, along with the Clinton County NY region.
In-home Dog Training and Puppy Training in Vermont and New Hampshire
Regional Dog Trainer, Maryanne Wood, CDBA
A certified dog trainer serving the Vermont and New Hampshire region, Maryanne Wood has a been a dog lover all her life. She has been active in fostering and rescue work for more than 2 decades, always owning at least 3 dogs at a time. One in particular pulled at her heart – King, a disabled 10 year old Rottweiler mix whose owner had died. "Instead of languishing in a shelter, this 3-legged guy found a safe haven in our home as he lived out the remainder of his days," recalls Maryanne. "Dog training adds one more component to a life I feel so blessed to have. I live in New England, surrounded by nature. Nature exists in the reality that each component is part of the whole. It's a beautiful balancing act. Dogs instinctively realize their place in nature; they have so much to teach us about the world around us if we only open our hearts and minds to them."
In 2007, that lesson came to the forefront of Maryanne's life when she was selected as one of only 33 people from across the United States to join the Behavioral Observation Team at the International Wolf Center in Ely, Minnesota. Dogs share many of the same traits as their wolf relatives, so participation in this project gave her an even greater understanding of canine behavior.
Maryanne graduated with high distinction as a Certified Dog Behavior Advisor, then completed her internship by participating in the rehabilitation of fearful and aggressive dogs in the Canine Dimensions shelter outreach program. She is recognized by both of the nation's most prestigious dog training associations: the Association of Pet Dog Trainers (APDT) and the International Association of Canine Professionals (IACP). She is also certified by the American Kennel Club as a CGC evaluator.
In 2011, she was appointed Animal Control Officer for the townships of Montgomery and Berkshire, VT where she works with local and state authorities to help enforce animal cruelty laws and investigate cases of abuse and neglect.
Canine Dimensions certified dog trainers provide puppy training and dog training throughout the entire states of New Hampshire and Vermont, along with the Clinton County NY area.
Request a FREE Phone Consultation
With a Canine Dimensions Certified Dog Trainer Near You