Thinking about starting a dog training business?
Learn how to become a professional dog trainer through the Canine Dimensions
dog training franchise program.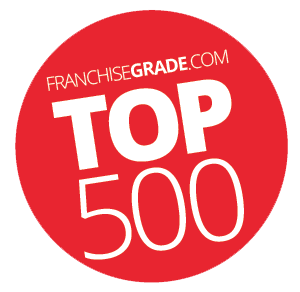 Our Franchisees Agree: Canine Dimensions is the best small business startup opportunity in the pet industry.
Canine Dimensions was ranked #29 out of 2,387 franchise systems by The Franchise Grade® Top 500 (2017).
Many of our franchisees were corporate executives looking for a "lifestyle business" where they could escape the 9 to 5, work from home and earn a good living. Our average annual sales per unit in 2017 was $154,547.
If you love dogs and are ready to own your own dog training business, this could be the opportunity you've been looking for!
Dog training is a great way to earn a living, as you help people solve their dog's behavior problems
and transform unruly, out of control dogs into polite, obedient pets.
Our dog training franchise program is the only way to learn Canine Dimensions' unique, proprietary dog training methods. Not only will you learn how to become a dog trainer but more importantly how to earn a good full time living in the dog training business. Learn how to become a certified professional dog trainer through the Canine Dimensions dog training franchise program - a complete dog training business system including ongoing support in sales, marketing, advertising and operations. Unlike more expensive franchises that come with very high startup costs, a Canine Dimensions dog training franchise can be started and run from the comfort of your home with no special equipment and no need to lease commercial space.
Dog ownership is on the rise, creating a huge opportunity for professional dog trainers.
40% of households in the U.S. and Canada own at least one dog.
The $61 billion pet industry has remained healthy in every economy.
We provide extensive training, marketing and business support.
The information contained herein does not constitute the offer or sale of a franchise. There are certain states that require the registration of a Franchise Disclosure Document (FDD) before the franchisor can advertise or offer the franchise in that state. This franchise may not be registered in all registration states and may not offer franchises to residents of those states or to persons wishing to locate a franchise in those states. The offer and sale of a franchise can only be made through the delivery and receipt of a Franchise Disclosure Document (FDD).
Become a professional dog trainer
Through the Canine Dimensions Franchise Program
Please fill out the form below and one of our placement counselors will contact you!